There is one thing that the creators of Clubhouse have accomplished: Creating hype around a product before it is available to everyone. A phenomenon that we have been able to observe with Apple, Nike, and few other brands. Raising desire through clever use of psychological concepts.
What we haven't seen yet is this particular hype around an app. However, clubhouse has certainly changed that. One of the reasons for this hype is its exclusivity. You need to receive an invite to get access to the app.
But what is this hype about?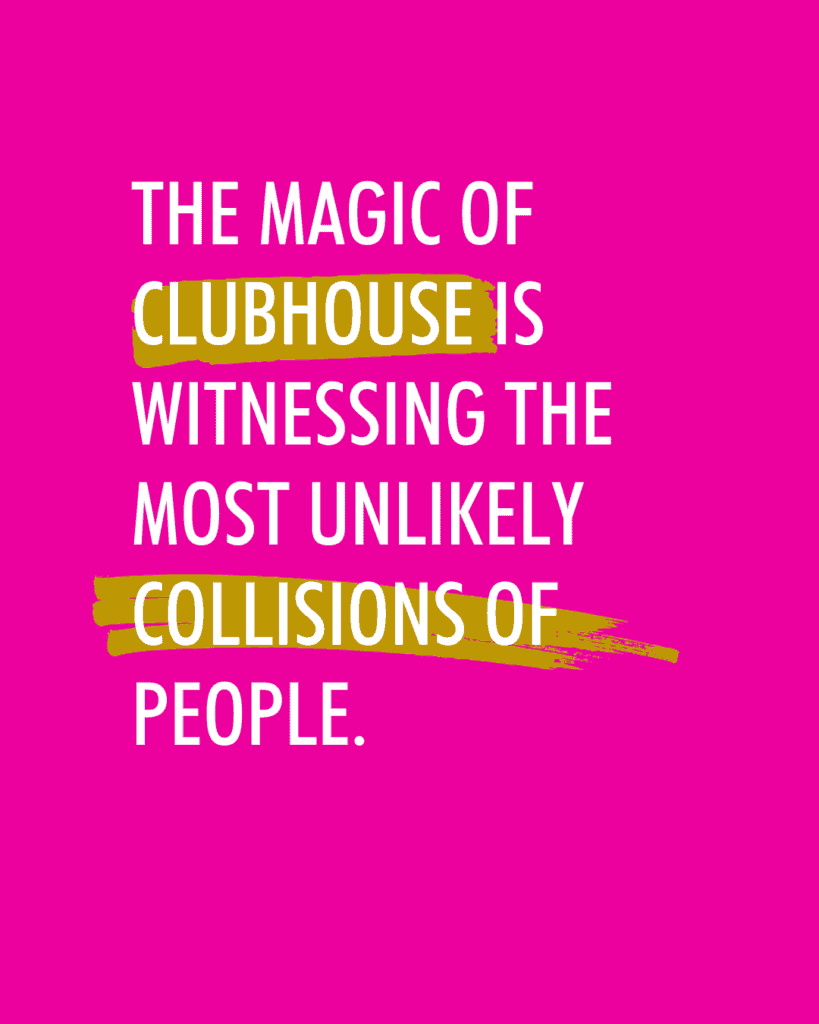 On the contrary to other articles, I think that Clubhouse has taken off so well, not just because of Zoom fatigue or Covid. It certainly contributes that you don't have to worry about how you look in front of the camera after a year of hanging out at home in leisure clothes. The app is bringing two significant components together: 1. It allows you to connect with people. (This part is no different than most of the other social networks.) 2. It reduces the distance between people by allowing them to interact directly with one another.
This might not seem very different than other apps at first. However, contrary to Instagram, Facebook, Twitter, or even TikTok, you can speak to someone directly and not just leave a comment. This makes the interaction far more personal and creates the feeling of connecting through genuine conversations.
The Center of Human Interaction
As humans, we want to interact, connect and socialize. It's our very own nature to share stories and learn from one another. And here is what the Clubhouse creators understood so well: After a year of social depletion, most of us were seeking and jawing for real social connections. Don't get me wrong; it is possible to connect with others through the more common apps. But Clubhouse has broken down any walls that might make it challenging to communicate with others immediately and directly.
Being in a virtual room and having the ability to speak to one another breaks down any barriers between you and another person that shares a common interest. It even allows you to be an active participant in events with famous people. The clubhouse has created what Instagram was trying to achieve through Instagram live: the ability to connect immediately. It is one thing to leave a comment under some post or video, and another to actively participate in a conversation and listen to people speak on stage.
What Clubhouse managed to do!
Clubhouse is bringing people virtually much closer together than any other app before. It has also eliminated the ability to like content because content disappears once a room is closed. Instead, you just can follow speakers that you find inspiring, and with a little bit of patience, you will yourself speaking directly to one of your biggest inspirations.
Why Clubhouse is different.
One of the critiques that Social Media is facing is the inauthenticity that many are negatively impacted by. The ability to filter what you don't want others to see while portraying your life. This can make people seem unapproachable. Another aspect of platforms such as TikTok is that some influencers have achieved celebrity status. This is truly an incredible effect because it is breaking down old traditional paths in becoming famous. But at the same time it defeats the initial purpose of social media: connecting the world and creating equality.
Now, this might change for Clubhouse over time. But so far, the app a been treating people very much equally, and many moderators are making conversation possible for the masses, which creates a feeling of belonging and community.
Building community through authentic emotions
Researchers have been untangling emotions and how we understand feelings for several decades now. As Arlie Hochschild shows in her book the second shift, changing your emotional expression is something that we can all learn. But changing your voice and the emotions you are sending through modulation of your voice is far more complex. A new study by Michael Kraus suggests that our sense of hearing is more vital than our sight when accurately evaluating emotions. Therefore, it is easier for people to detect authenticity through voice.
It's it worth all that hassle and time afford?
That is a justifiable question. And honestly, my first reaction to Clubhouse was: Not another Social Media platform that I have to worry about. But my curiosity and FOMO kicked in immediately. After installing the app, I received the notification that I am on the waitlist. So, the inpatient, I reach out to several friends right away to check who still had an invite left, and fortunately, I was in the following day (you might be surprised how many friends are already in Clubhouse).
At first glance, it appears like there very few interactions going on on the platform itself. But once you start exploring the rooms, it becomes clear how effective and impactful this app can be if used correctly. The impressive part of this app is that you can listen in and even take part in conversations, for example, Marie Forleo, Jasmin Star, and many others. And by exchanges, I mean you can join a room and raise your hand if you have a question and have a conversation.
Notes:
These conversations are in many rooms, similar to a podcast-style discussion. You will hear a panel discussion in some, and in others, you will be presented with excellent networking opportunities. The impressive part about Clubhouse is that you can have real-time conversations.
You can also start your room and bring people together to discuss any topic aligned with your expertise.
What kind of conversations are being held on Clubhouse?
You can find a wide variety of topics: from entrepreneurs to psychology, self-improvement, leadership, marketing, networking and much more. Some rooms are podcast style, others Q&A sessions, some run like a workshop.
Overall Clubhouse is a great networking tool.