Social Psychologist. Impact & Leadership Strategist. Adventurer. Entrepreneur. Avid Reader. Public Speaker. Mindset Coach. Dog Lover. Yogi. Mountain-Biker. Two-Parts Realist; One Part Incurable Utopian.
Living between cultures
Moving to a new country is considered one of the top 3 most stressful events in someone's life. I was born in Poland but grew up in Germany as an immigrant and refugee. With my family, I spent five years – aged 4 to 9 – in an immigration camp. But I refused to call myself a refugee because I was ashamed that we did not fit in.  I didn't realize that my parents were actually part of a tiny elite group – only 3% of the people in the world are brave enough to move to a new country. It took me years to fully appreciate their vision and courage to take this huge step into the unknown. 
Written in retrospect, my story is one of overcoming negative emotions, changing my mindset and stepping into my authentic power by letting go of the narratives people created for me.
My friends could not understand my life between two cultures. "You are not from here", "This is not your mother tongue, so don't put pressure on yourself". I guess in their own weird way, they were trying to comfort me. But what I understood was: I would not be as good as them because I didn't belong. Teachers would summon my parents to school just to "warn" them that I probably wouldn't finish high school and that going to university wasn't a realistic option for me. As an immigrant, you don't get all the benefits of the state. Counseling or career guidance was not accessible. Looking back, this is the reason why I did everything I could to stay independent.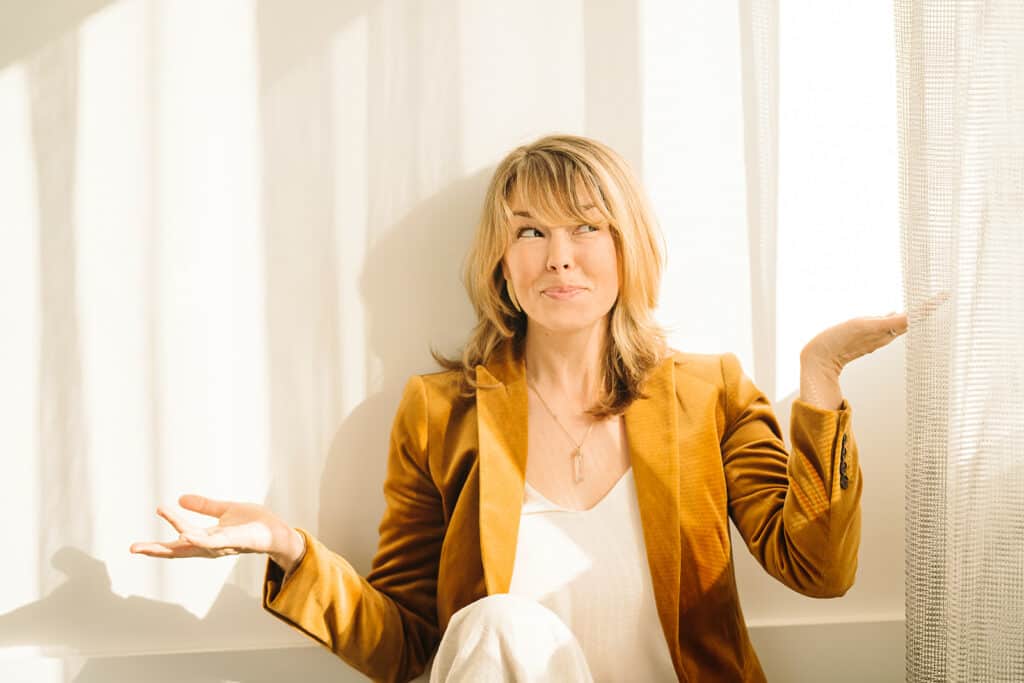 The other side of compassion
As much as I appreciated the compassion and understanding, I know now that it wasn't what I needed at the time. I needed someone to sit down with me, help me learn, and guide me. It took me so long to fully understand my emotions and recognize that there was nothing wrong with me and that it had everything to do with people's fixed mindset bound within their culture. The invisible impact of these experiences still fascinates me today.
I now understand that sometimes things seem so complicated that most people find it easier to simply tell us not to worry. It's much harder to explain – and yet, by helping people understand, we actually open the door to creating a feeling of abundance and opportunity.
That step into authenticity and power starts by embracing emotions, developing a positive mindset, and creating a long-term strategy that keeps us motivated and on track to create the impact that you desire. 
It was when I was in South Africa researching my Ph.D. that I first realized I also had my parents'  vision and courage. I had watched them  hustle – and develop a hustling spirit too. Thanks to them, I too am part of an elite club of people brave enough to yearn for more out of the world. I believe I have the skills and the power to be an influence in the world in which I live in.
Building my cocoon!
Stepping into authenticity and power starts by embracing your emotions, developing a positive mindset, and creating a long-term strategy that keeps you motivated and on track to create the impact that you desire.
In my youth, social justice was an important part of my work. At 17, I was trained as a peer-to-peer mediator and facilitator by the Anne Frank Museum in Frankfurt. I was part of a reconciliation team, working with holocaust survivors, accompanying them on their journey through the past and through the difficult process of letting it go. I also worked with teenagers in anti-racism and even joined a labor union to support young people and their labor rights.
I then spent an amazing year in New York, came home and started my first company at 20 to make some money in order to explore the world and its many cultures. I found myself engaged by big companies like Renault, VW, Lazard M&A, SEB Bank, Channel as a strategist, researcher, and coach. I had a big worldview…but I knew that a traditional career wasn't the path for me. I knew that there was more out there for me, because at the end of the day, I understood I didn't really belong – and I no longer wanted to.
Let change of perspective widen your horizon.
I knew it was then time to carve a path for my future. Although I had encountered some amazing people along the way who impacted me significantly, I was armed with very little career guidance. Hence, I followed my heart and entered the field of Sociology, Philosophy, and Art History.
Towards the end of my Master's degree, I was offered a scholarship to South Africa with the option of adding an Honors Degree in Group Dynamics. It was an opportunity that changed my life and allowed me to get clearer about my purpose. To abbreviate Kwame Nkrumah's famous quote: "I wasn't born in Africa, Africa was born in me" is what solved my identity crisis.
After eight months of personal awakening in South Africa,   returning home to Germany was a significant culture shock.  I knew I needed to go back to South Africa. So, I finished my Master's thesis on the "Practice of Emotions", still not fully  understanding why I chose this topic or how relevant it would be for my future career. I applied for a research position at a Merger & Acquisition bank to ensure that I could save enough money to move to South Africa and give myself enough time to figure out how I could make my mark in the world.
Connection, Growth, and Clarity!
While contemplating my experiences, it dawned on me; the more experience you go through in life, the more power you have to create change. You just have to be willing to claim it.
As humans, we want to belong, we want to contribute, and we want to be accepted. As immigrants, we want to prove and show that we are as worthy as the rest. As female immigrants, we want to create impact and help, thus being part of creating a world where we can all thrive and be who we want to be – without the need to understand where we come from.
I knew I needed to change the world to heal people; I needed to change the structure and create strategies that allow people to be impactful. South Africa made me feel like I belonged. The cultural diversity, people from all over the world coming together in one place, most of us outsiders, different thought leaders and provokers. This was when I understood that I could choose who I wanted to be.
Once I gained clarity, everything happened simultaneously: I started working on my PhD in Social Psychology and received a tremendous opportunity to teach at the Nelson Mandela University while working on my research on masculinity and emotions in high-security prison facilities. I also started two non-profits to work on projects that I believed in and continued running my own consulting company. I knew I had to learn quickly to become as impactful as possible. 
Closing the circle!
As a perpetual immigrant, my journey through the world continued from South Africa to the USA. At first, it seemed as my decision to leave South Africa was spontaneous. Simply said, I met someone and followed my heart. But it was far more than that. And deep down, I knew that it was the next step. The US always fascinated me because of its diversity and possibilities. My research on emotions continues, as well as my research on living between cultures and organizational development. I am yet to see how this story will unfold, but I am grateful to have the opportunity to understand how we can create a better world through cultural diversity.
The big moment
I never intended to become a therapist as I I don't really believe that there is much wrong with any one of us.. But, the topic of emotions had come to me as  a brilliant research suggestion from my PH.D. professor at Nelson Mandela University. That study lead me to discover the bridge between the social and the individual aspects of how our world works. 
This bridge is what connects us: what connects our inner self with our outer world. Emotions are powerful, and if we understand our emotions instead of cultural emotions, we will be miles ahead of the game.
——————————————————————————————————————
What is an Impact Consultant?
When I think of impact, I think of your ability to set your own rules. Even more so, step into your authentic self by overcoming fear and judgment. Starting with embracing your power by knowing that you control your thoughts and emotions – and with that: your experiences, your reactions and actions. It also means that no-one can take away your power, because it lies within you. 
Stepping into authenticity and power starts by embracing your emotions. It continues with developing a positive mindset and creating a long-term strategy. After all, that's what keeps you motivated and on track to create the impact that you desire.
It is because of my personal history and the lesson's I have learned that I structure my work around MINDSET, EMOTIONAL POWER and STRATEGY.
This is what I bring to personal sessions, as well as group settings and corporate offerings.
The question I am eager and ready to answer is not where are you from, but who do you want to be and what do you want to impact? That is when the real conversation begins!
________
Read more:
The work of an impact consultant
As an impact consultant, I become your accountability partner, your strategist, and coach. Establishing a strategy and boundaries that will help you move the needle.
The holistic approach to success through mind, body & soul!