Learn about niching down and finding your sweet-spot with this weeks boss-lady solopreneur , Laruen van Mullem. And laugh a little bit along the way!
Womxn's Inc. is all about meeting with women in business to learn lessons, support each other, and grow. Learn more about the blog series with our introductory post and meet all of the amazing women who are participating each Wednesday on my Instagram Live.
What Did you want to be when you were a child?
A detective and pirate (age 6-8), a psychologist (age 11), and a Shakespearean actor (age 12 – 18), in that order. Really, that's a recipe for a future self-employed writer. I get to be all of those things, minus the iambic pentameter.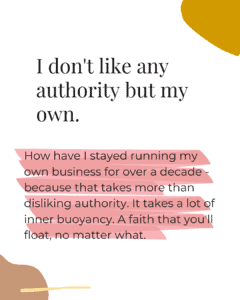 What motivated you to start your own company?
My first 'real job' was traumatizing (not exaggerating, it took me years to stop having nightmares), but it motivated me to never work in an office again. I miss office bagels though.
I don't like any authority but my own. That's the real truth of why. I hate bureaucracy, I love finding my own way. The real question is: How have I stayed running my own business for over a decade – because that takes more than disliking authority. It takes a lot of inner buoyancy. A faith that you'll float, no matter what.
What is the best advice you were given when you started your business?
That's tough. I didn't get any advice when I started, because I didn't know any other freelance content or copywriters. This was 12 years ago, and there were no Facebook groups for us. I couldn't even find anyone like me on Google. It was so new. My only frame of reference was the freelance writers I knew who wrote for magazines at 10-25 cents per word – and that is so very different.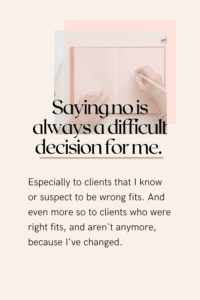 What has been the most difficult decision you've had to make while running your business?
Saying "no" is always a difficult decision for me. Especially to clients that I know or suspect to be wrong fits. And even more so to clients who were right fits, and aren't anymore, because I've changed.
In moments of self-doubt or adversity, how do you build yourself back up?
Deep breaths, a snack, more tea, and probably a post on Facebook along the lines of "please remind me why I don't suck?" Yeah, I go from empowered to pathetic real fast. But, I also bounce back fast. I don't stay in self-doubt for long. And I have a great group of friends, colleagues, and coaches to give me perspective.
What does success mean to you?
Success means making enough money to live comfortably and accomplish some big life goals, while also loving your work and having near-total autonomy as to how, when, and where that work gets done. Basically, I want enough money for a kitchen remodel and for no one to tell me what to do.
Knowing what you know now, what would you have done differently?
I wouldn't have let myself be abused and taken advantage of by clients. That's the biggest thing. It took me years to learn how to set strong, healthy boundaries. And it took a while to learn how to use my copy to filter out bad-fit clients. I still get the occasional narcissist though – they don't pay attention to the cues. But, now I can spot red flags a mile away and mostly avoid them!
What is the craziest thing you have done in your life and business?
Last week I said "no thanks" to a $100K+ copywriting position at Adobe. Few things have made me so happy as being able to say no to something like that. My husband was like "are you sure?!?!?!" and I was like, YES I AM. You just can't buy what I've built for myself: Amazing clients I love, work that excites me, and the freedom to play.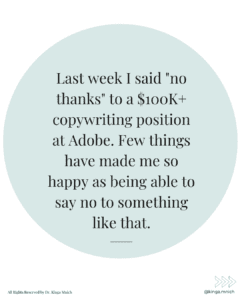 Which daily routine could you not live without?
No carbs for breakfast. Last year I studied my energy, tracked everything, noted what made me tired and what gave me more energy, and protein for breakfast is my bedrock. If I have a waffle, I won't get nearly as much done for the rest of the day. Yoga is also very important to keep my back and core in shape. Professional writing is hard work.
What do you love most about Truer Words by Lauren?
I love playing with it. Trying out new ideas. Finding ways to enjoy what I do even more. I just announced a March Craft n' Copy hour where I'll be on zoom working on my knitting (I'm just learning, it's really bad), and anyone is welcome to hop on and chat about copy, business, or whatever creative project they're working on. In the past, I've experimented with crazy freebies, like a free page of copy (I offered that when Covid started because I just wanted to support people who needed their online businesses to work NOW). All I can say is, Trust your crazy ideas (I read that on a notebook once).
Where can we find you and your work?
You can find get in find my work on my website. This is also where I would love to get to know you in group coaching.
You can stay in touch with me on social media through my Instagram or Facebook.
View this post on Instagram
What