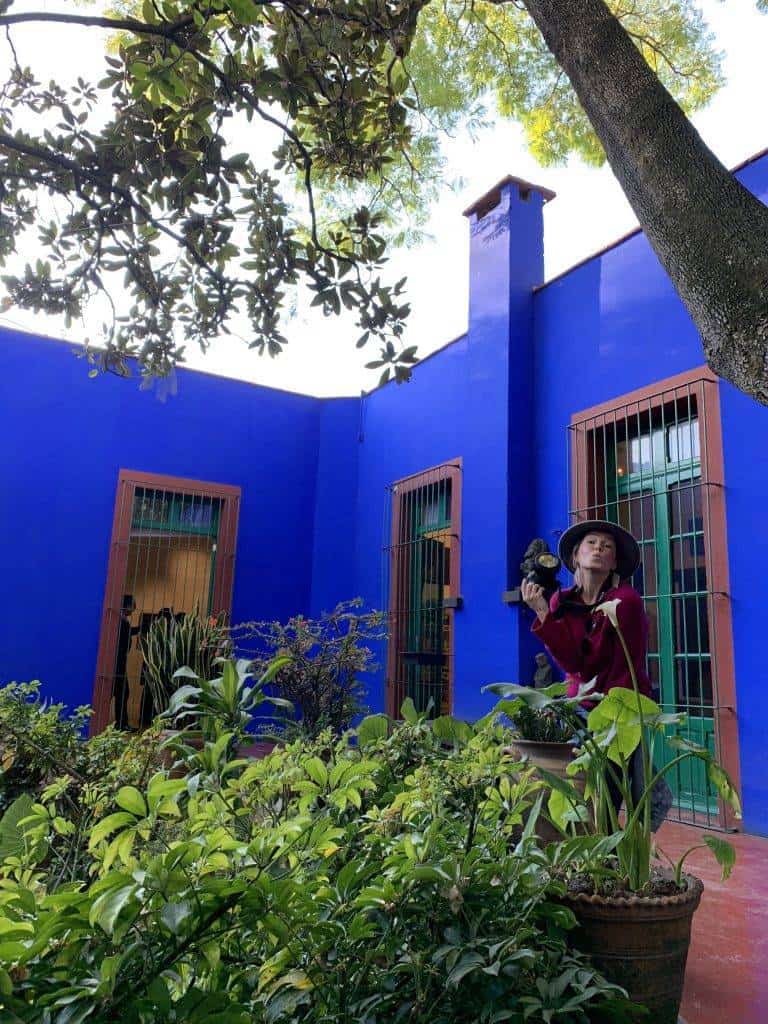 Last month I went to Mexico again, starting in Mexico City. I have to admit that December is certainly not the best time to travel to Mexico–it just gets so busy. But when work is calling you have no other choice.
This was my sixth visit to the city and this time I made time to see the Frida Kahlo museum and La Casa Gillardi. And I was absolutely on a mission to capture the colors of the city and visit Puebla, Queretaro, and Acapulco.
If you are planning on visiting the museum make sure to buy your tickets up front and be on time. You should plan about an hour and a half for your visit and don't be surprised if you have to pay extra for taking photos inside the museum. I went in the afternoon and have to admit that the light wasn't perfect for my photography, so keep that in mind if you want to take pictures.
You can easily walk from the museum to Mercado Coyoacan, a classic public market in the heart of Coyoacan. Stroll the nearby parks (they have beautiful kiosks) and sit down for a traditional Mexican breakfast. Coyoacan is an traditional neighborhood and it is absolutely worth visiting for the sweets, chocolate, handmade crafts, and dried fruits.
Feet, what do I need you for when I have wings to fly?

Frida Kahlo
One of my biggest joys in Mexico City is exploring new hotels and restaurants. Casa Decu was a great surprise. The style and architecture were simple but beautiful, a great mix of Art Deco and minimalist style that will make your stay absolutely joyful with the right amount of Mexican spice.
Casa Decu is located in La Condesa, my absolute favorite part of the city. This hotel offers smaller apartments, which is perfect for working while traveling. It has also a beautiful rooftop. The hotel is walking distance from EL Moro, where you can have hot chocolate and churros. Or walk to Antolina, definitely my favorite place to have lunch and dinner.
Another jewel in Mexico is the architecture. Casa Gillardi is really worth being experienced. The details with which the house has been designed can't be easily described because everyone experiences it differently. Every corner of the house was designed with intention. Every structure plays with light and symmetry. Since the house is privately owned and they don't offer views every day, make sure to get in touch with them and be respectful when visiting.
I couldn't visit La Casa Barragán, another masterpiece designed by Barragán, because I didn't plan my trip far enough in advance. They were booked for the next 3 months! In case you encounter the same situation, don't worry. There's plenty in Mexico to explore.
Just strolling around the streets is absolutely exciting and colorful.
You can truly find color at every corner. Renting a bike, scooter, or Uber will get you anywhere you like. Personally, I used the scooters from Bird and found it really easy to use. And a lot of fun! But it can become quite expensive.
Another great hotel to stay at is the Zócalo Central Hotel. It is absolutely gorgeous and perfectly located in the heart of Mexico City. The best part is the rooftop restaurant. We enjoyed an amazing breakfast during our stay and had a wonderful dinner with a great view.
Stay tuned for Puebla and Querétaro or check out my Instagram stories for more.