I have heard many things about Costa Rica and it was on my bucket list for quite some time and finally, I found my way there; It is most certainly a beautiful country and we had a great holiday. Though, I am not sure if I would recommend it as a must-see, at least not during high-season.
Flying into San Jose you see the full vastness of the country's jungle. Everything looks green from above. Arriving at the airport nothing seems that green anymore as a 2-hour immigration cue is awaiting every foreigner entering the country. This is, of course, not the only country that has difficulties organizing border control, but it was unnecessary and considering that there are 1.7 million tourists visiting the country per year, you might think that there would be more than 10 immigration officers receiving the tourists.
Once we survived the cue we made our way to find a driver and went the unpopular way with our Ãœber app (Ãœber is still a grey area in Costa Rica, it is not truly illegal, but also not legal therefore a risky business). Our driver was amazing and brought into the city while answering all our questions. We kept his number in case we needed someone again drive us around. I always recommend this.
Even though San Jose doesn't have much to offer, I wanted to explore a little bit the main city in the country in order to get a feel for it. Also, it was significantly cheaper for us to rent a car inside the city then at the airport.
We spend our first night at the Hotel La Rosa del Paseo, a small cute and clean Hotel in the center of the city, which was truly perfect.
After a good Costa Rican breakfast we went picked up our car and started our tour with the first stop at La Paz Waterfall.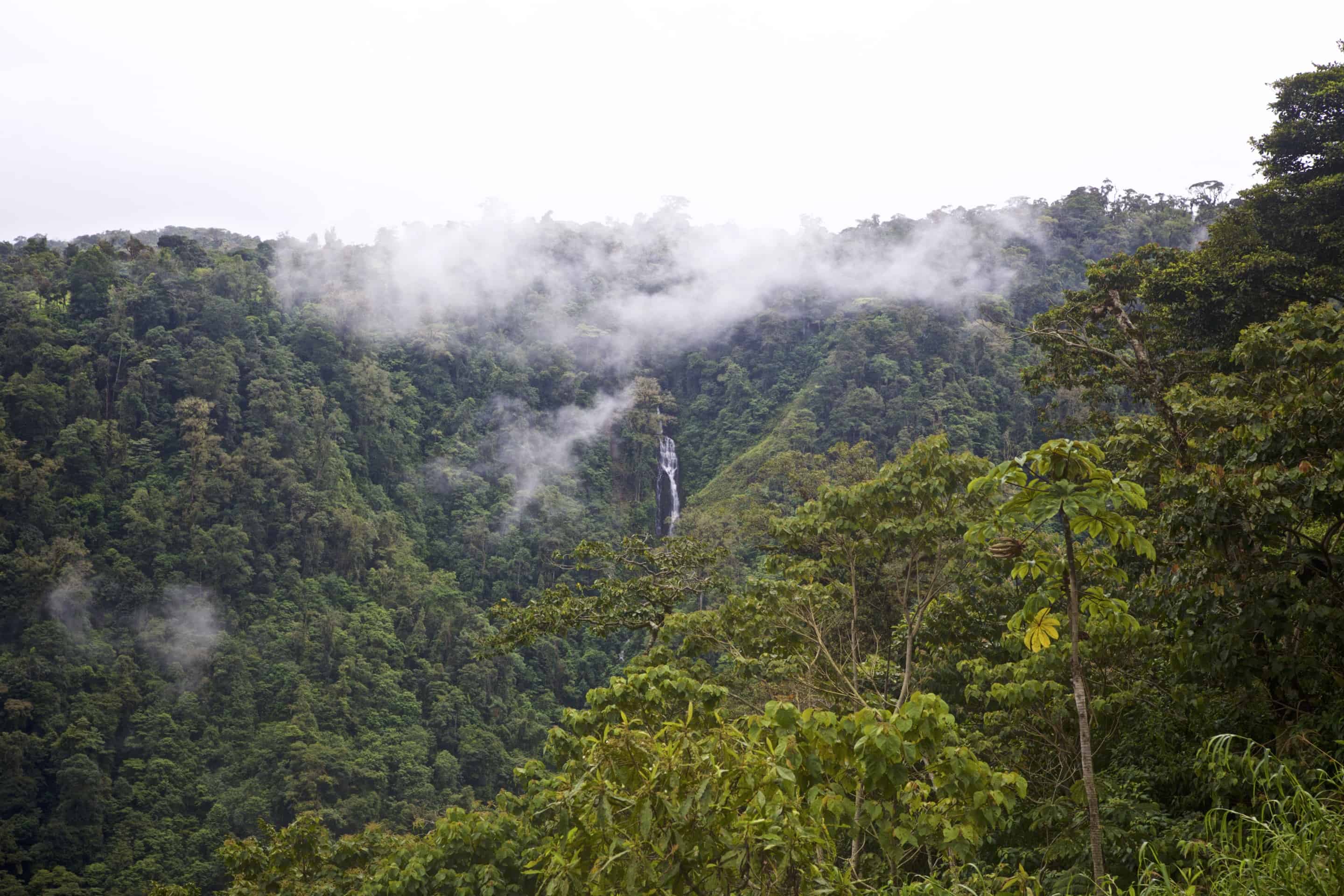 Our trip started out-right gorgeous. The drive was very interesting and enjoyable even though Ticos are crazy drivers and I would venture to say that they drive a lot crazier than Mexicans. But we saw the stunning jungle and the area was not full of tourists.
This little fellow was lured by some apples that someone left for our amusement.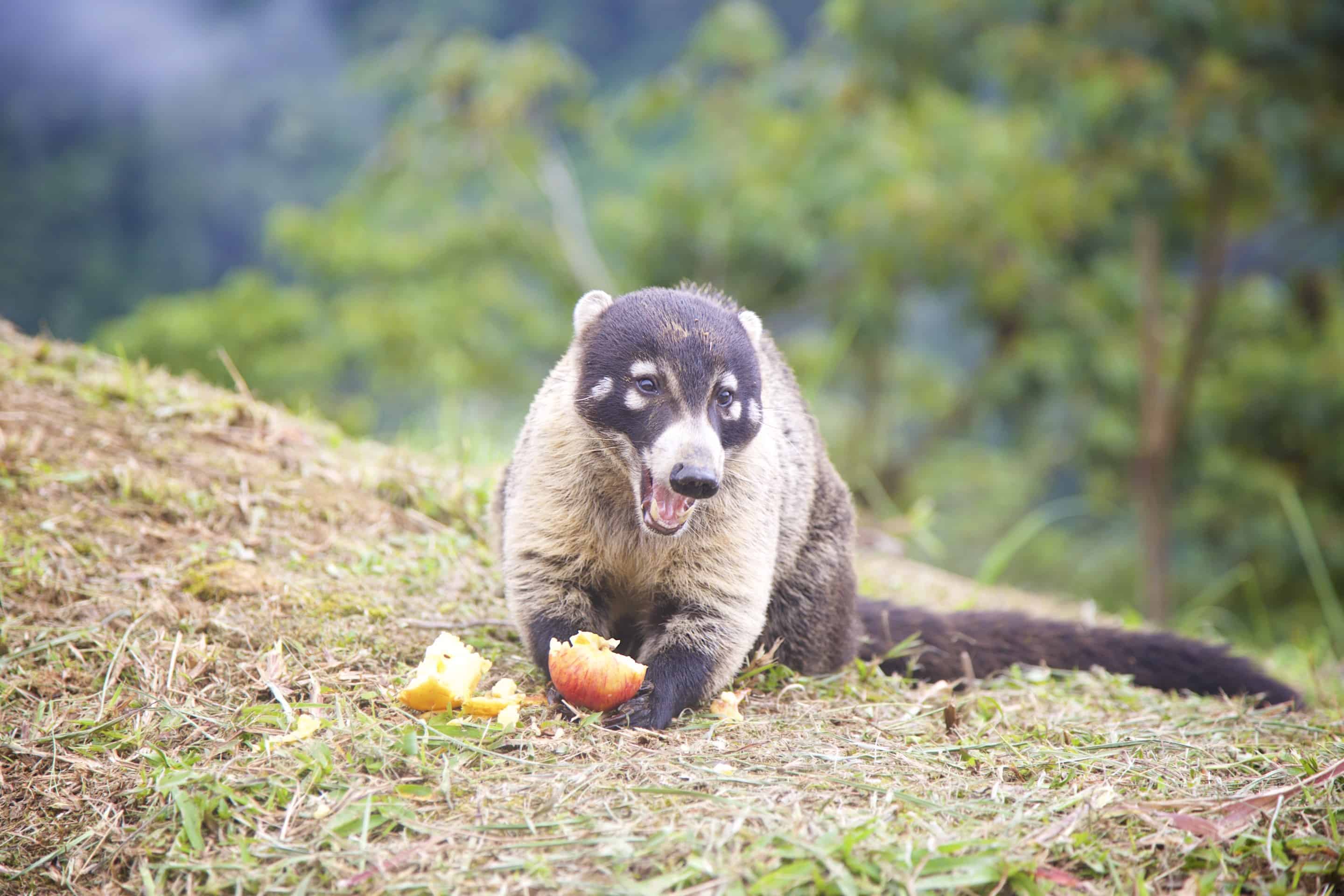 The entrance to the La Paz Waterfalls is about $40 per Person. Though the park is kept beautifully, they are rescuing animals that were kept as pets.
There is much entertainment in the park for the whole family. Looking back at it, I wish we could have stayed for one night at the resort and enjoyed the facility with everything that it offers.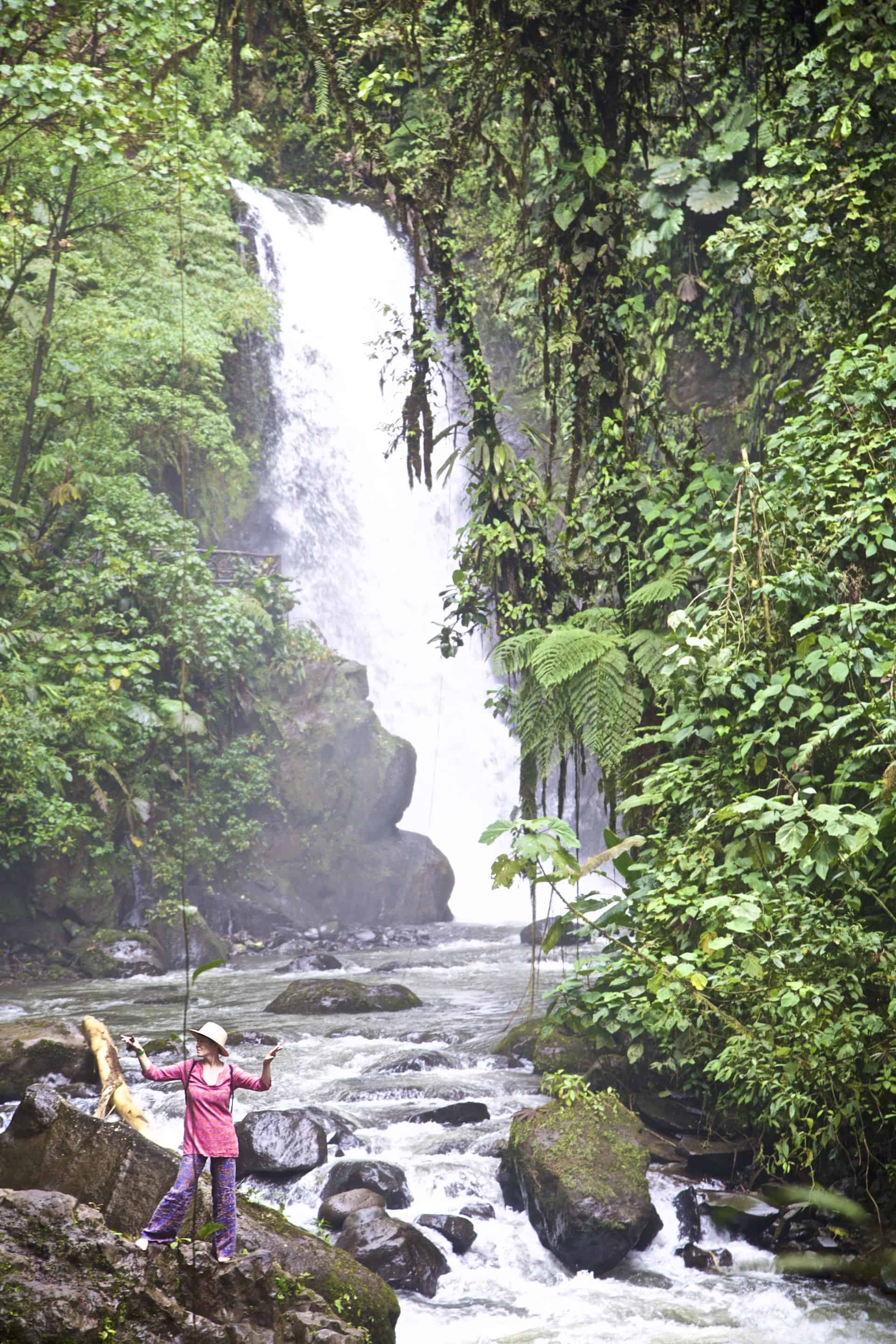 Our next stop was the area of Arenal where we stayed for two days at the Hotel and Spa Tabacon. It's the most stunning place and the thermal park is really something else. It is certainly not for a low budget traveler, but it is worth being visited, so if you have been on the road and you want to treat yourself or purely like to travel luxuriously Tabacon is a must. There is quite a bit to explore around the area of the Volcan Arenal.
Spending time at Mistico Arenal Hanging Bridges Park can be fun and if you are not looking for an adventures hike this is absolutely the perfect place for me.

One secret that I would like to share with you if you are into some adventure and hiking is a hidden path that is close to the La Fortuna Waterfall Park. Just park close to the park and walk up the hill on the right (opposite from the park entrance). The trail goes through the jungle and is a true workout. It has a trail, but it is not like one of the tourist trails as in the other parks, it seems like no one is really taking care of it. This hike was certainly a highlight of our Costa Rica Adventure because of the view of the volcano.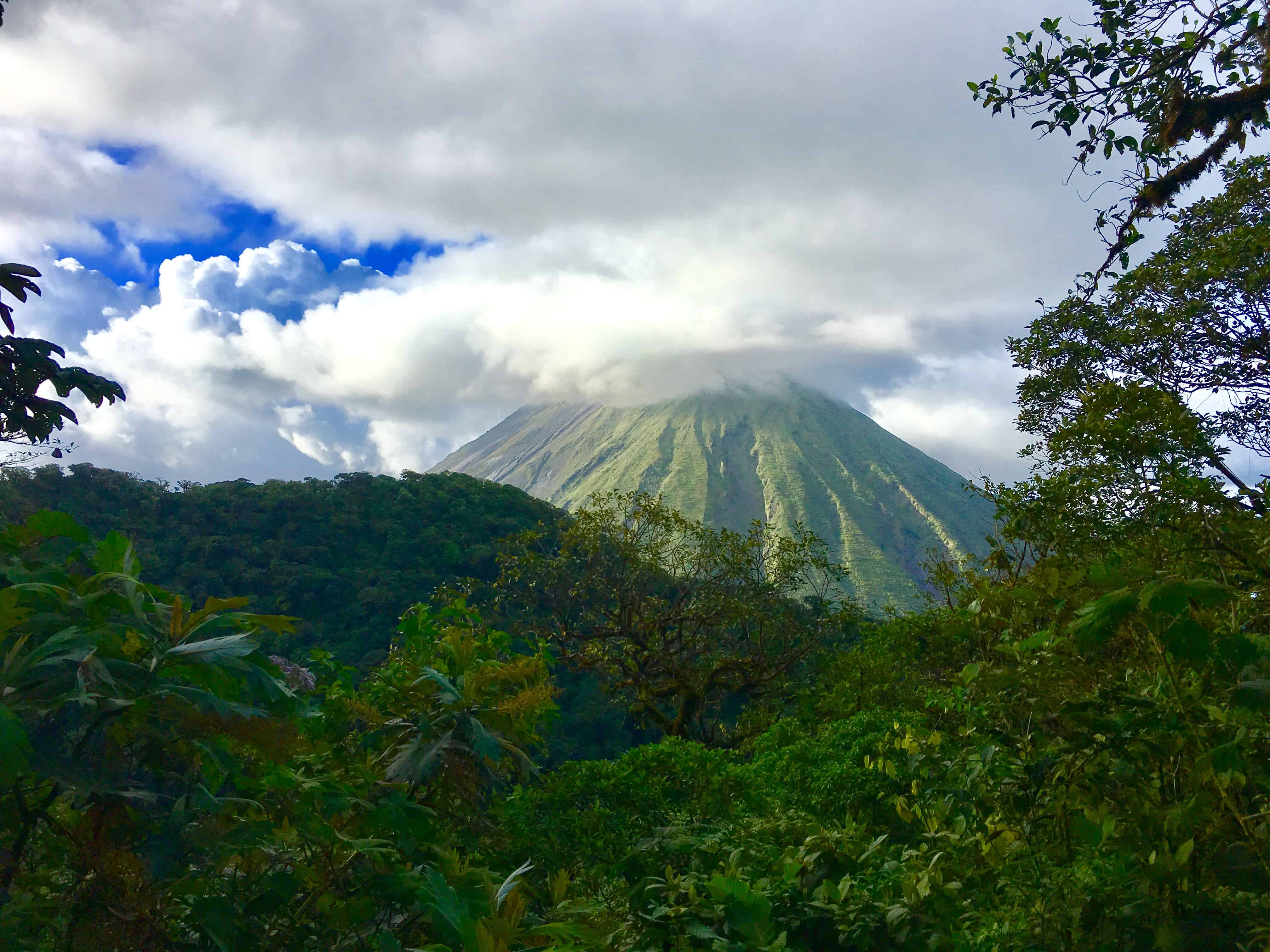 Our drive towards Tenorio Volcano National Park – Rio Celeste was certainly a lot of fun. You do need a 4×4. I wish we would have stayed for 2 days in that area: The park was pretty; if you have good hiking shoes or shoes that can be washed that should suffice -you do not need gummy boots as the avid self-employed entrepreneurs would offer. The trail is full of mud, but it an adventure to hike it. The color of the water is certainly like a fairytale blue, but if you stay in the area and drive around and explore you will see some other small waterfalls. We didn't have the time to explore more but if I could I would stay a night at the Rio Celeste Hideaway Resort.
Our next stop was Playa Grande, neighboring beach to Playa Tamarindo. It is a lot quieter and offers less accommodation, but it was stunningly beautiful and playa Tamarindo can be reached for $1 via boat ferry across the Laguna Crocodillio.
At first, we were not sure about booking the catamaran cruise, but it is most certainly a highlight. Just to see the thickness of the jungle from the sea is just something else and it is just a joy to watch dolphins and turtles in the sea.
Playa Grande and Tamarindo are perfect for surfing. The water has optimal temperature and the swell is almost constantly present. The evening walks are just true bliss with the sun setting down.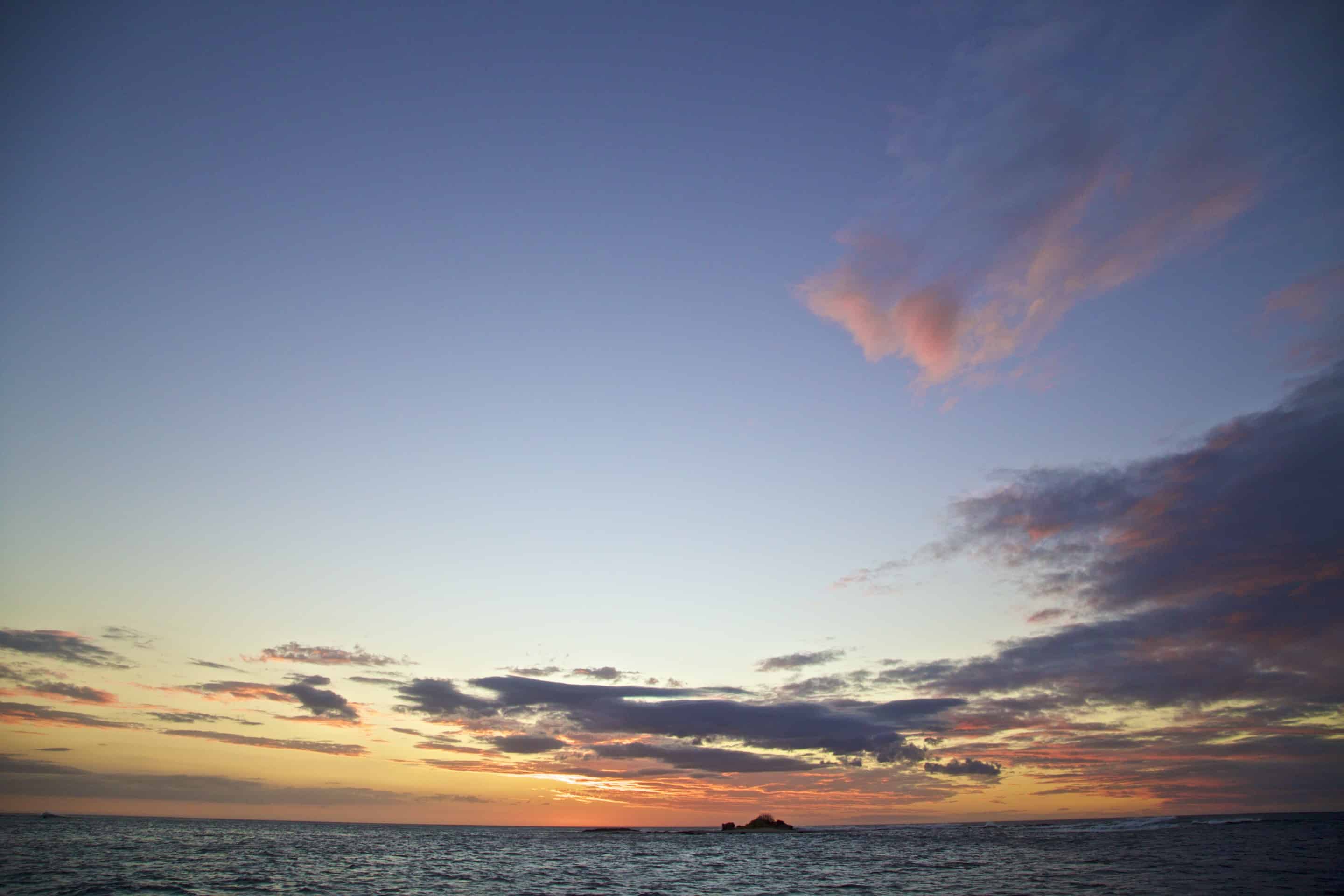 Playa Tamarindo offers a variety of restaurants and has also a small french bakery with a beautiful view.
Our last stop was the area around the Manuel Antonio park. The area has some beautiful cafes and restaurant. The park has an amazing beach. I wouldn't say that you will see a lot of animals as there are so many tourists and they enter the park with such affray that most animals just disappear in the depth of the jungle.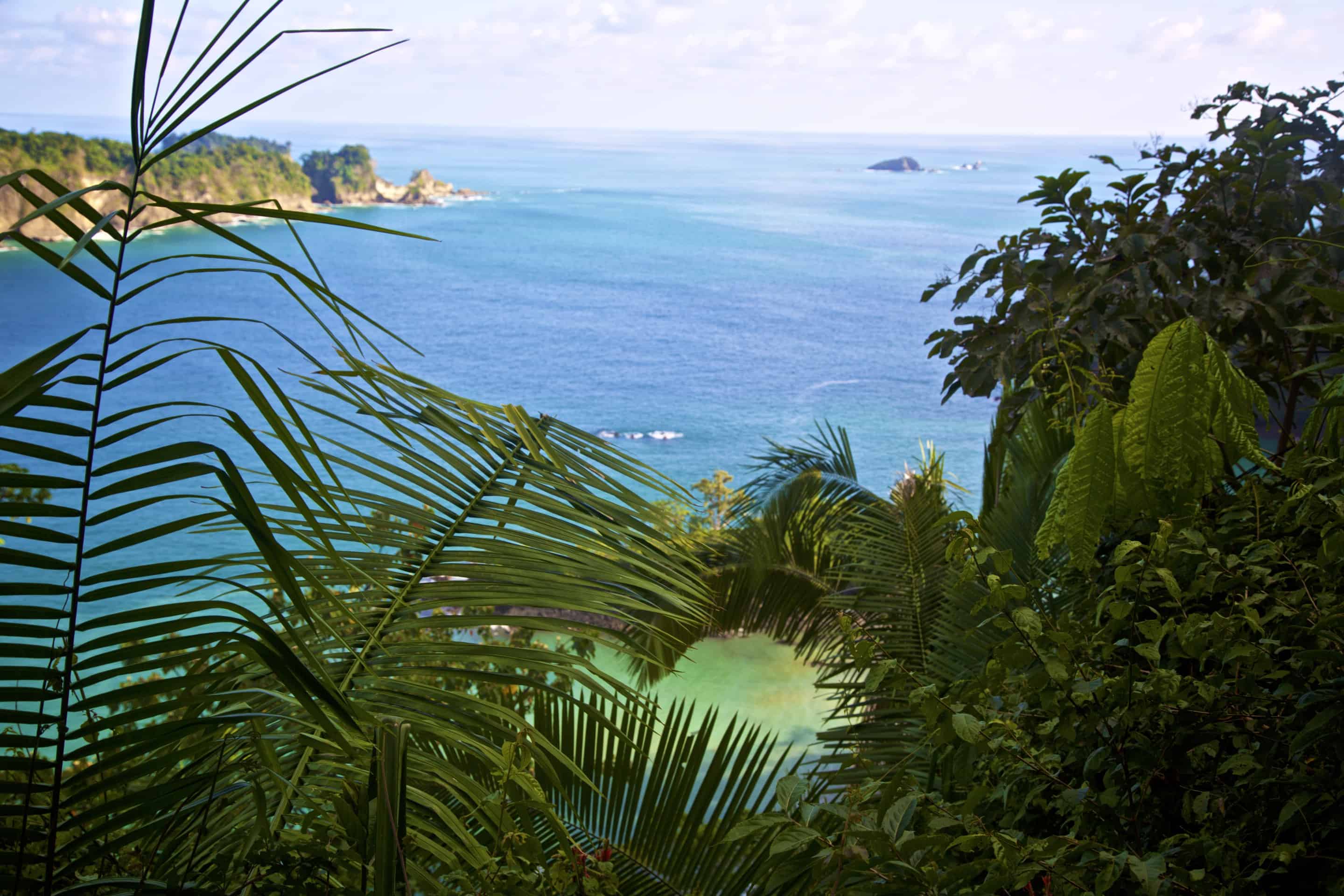 We booked a villa for a few nights, explored the area and found stunning views. The Rain Maker Park in Puntarenas Province not far away from Manuel Antonio is a great alternative for you to explore the rainforest more.
Costa Rica has a variety of flora and fauna. Especially the variety of plants and trees is what truly stopped my breath a few times. I wasn't impressed with cities or towns, neither was I impressed with the food considering the fertile soil that Costa Rica has. But nature is really stunning and you don't have to drive a lot in order to see much. If I had to go back to Costa Rica I wouldn't go for longer then 10 days. Our 19 days stay was too long and make the whole excursion very expensive for us. In order to be able to enjoy Costa Rica, you need to spend money on the parks that usually have a high entrance fee and stay at least for a few nights in some pretty hotels. Especially during the "off" season make sure to check out some nice spots and negotiate with them a price that you feel is fair. Overall, Costa Rica is a beautiful country that does struggle with some weird policies that make food (besides rice and beans and certain fruits) very expensive. This is an unpleasantry while traveling through the country. Costa Rica is keeping its nature mostly intact which is so important nowadays. As this places become less and less, we as tourist need to support countries that try to keep the beauty of our world alive. Though, I do feel like Ticos are taking advantage, especially of American and Canadian tourists.
So when you can and you have that extra dime Costa Rica can be certainly a vacation to enjoy.